News Archives
Read All Our Articles Previously Published
26 of April 2018
Back to school 2019: compulsory education goes from 6 to 3 years
---
At the end of March 2018, the Elysée announced its decision to make compulsory the schooling of children from the age of 3 years. Emmanuel Macron mentioned it publicly that same day at the opening of the "Assises de la Maternelle" which took place in Paris.
Equal opportunities for everyone from an early age
Currently, children's education becomes compulsory from the age of 6 and below this age, home schooling is not an obligation.
The government's desire is to reach the 20,000 to 30,000 3-year-old children who are out of school because the parents keep them at home. According to Francette Popineau of the Snuipp-FSU teachers' union: "Some families find it difficult to separate from their young children. It's cultural. Especially in African families, for example "(Source: Le Figaro)
According to the Elysee: "This decision reflects the will of the president to make the school the place of real equality and recognition of kindergarten, which should no longer be considered a mode of care or preparation for the elementary school but as a real school, turned to the acquisition of language and the development of the child "(Source: Le Parisien)
Linguist Alain Bentolila supports this decision by emphasizing that "we must put kindergarten at the heart of the National Education. We will get more equality by putting the children as early as possible in school "(Source: Le Figaro).
In comparison with its European neighbours, France will place itself as the country where schooling is done the earliest: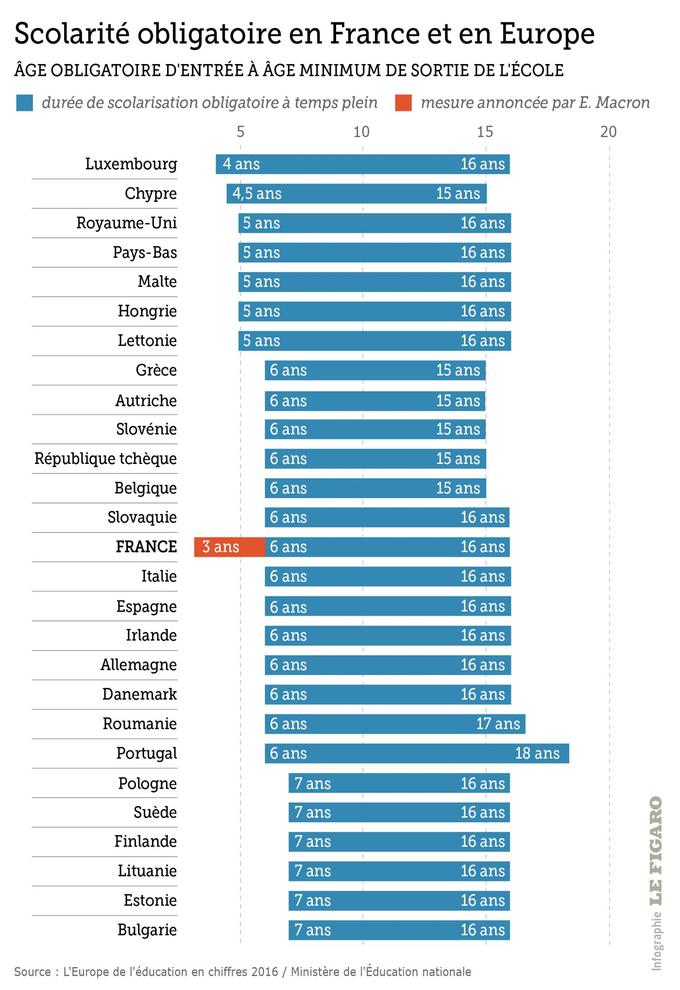 Towards a reform of the initial training of school teachers?
Faced with this obligation of schooling from 3 years, the French government should also announce a reform of the initial and continuous training of teachers in kindergarten and their Atsem (territorial agents who assist teachers in class).
This reform will require the creation of 800 additional positions within the National Education.
Delegate the management of your transferees' transfers to efficient experts!
We are immediately available to assist you with all steps related to international mobility.